When my husband and I decided to tour the country, we knew that a recreational vehicle (RV) was the best means of transportation for us. It promised to offer us the luxury of space and comfort that we craved. As we prepared to embark on our journey, we realized that we needed to take care of the entertainment segment of our RV as well.
One of the essential elements of our entertainment setup was the television. We knew we wanted a TV in our RV, but we didn't want it to take up valuable space. That's when we started researching the best TV mount ideas for our RV.
After much research and consideration, we came up with five innovative TV mount ideas that would maximize the limited space in our RV while still providing us with a comfortable viewing experience. These included mounting the TV on a swing arm, using a ceiling mount, installing a slide-out mount, using a portable TV stand, and utilizing a wall mount.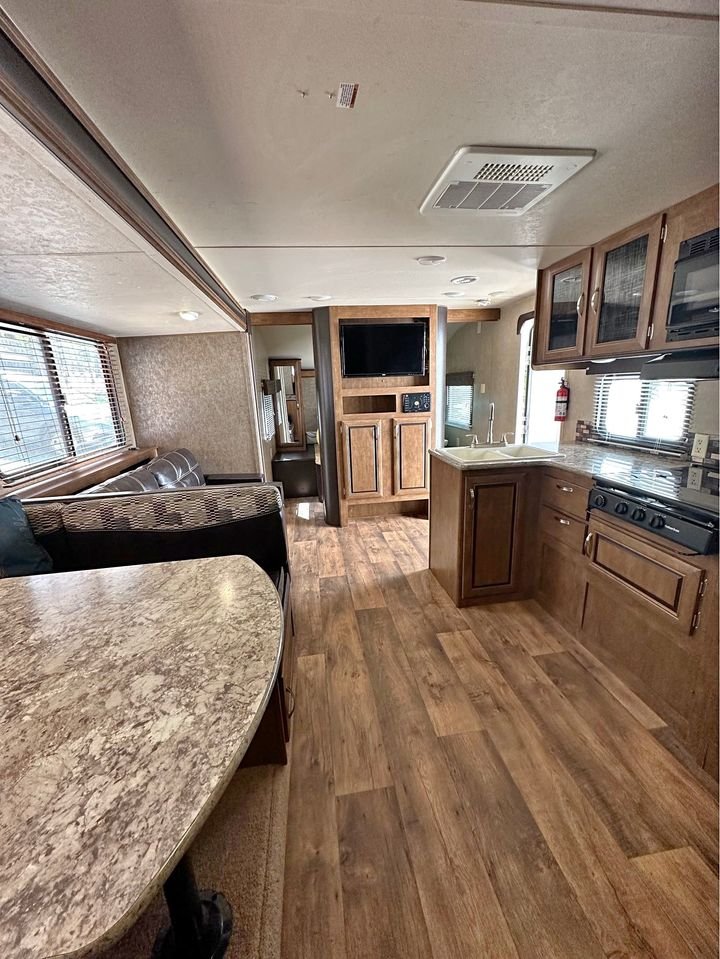 Our decision to invest in a quality TV mount transformed our RV entertainment setup. We were able to enjoy our favorite shows and movies while on the road without compromising on space or comfort. If you're planning to tour the country in an RV, don't forget to take care of your entertainment needs with one of these five best RV TV mount ideas.
5 Creative Ways to Mount Your TV in Your RV
When you're on the road in your RV, having a reliable and functional TV mount is crucial for your entertainment needs. Here are five creative mounting ideas to consider:
1. Outdoor RV TV Mounting
Mounting a TV outside of your RV can be tricky, but it's perfect for camping and enjoying the outdoors. Make sure to choose a detachable mount so you can move it around inside the RV when the TV isn't in use.
Consider a dual plate RV TV mount, which allows you to easily mount your TV outside the camp and then move it indoors when you're done.
By choosing a detachable mount, you can ensure the safety of your TV while it's not in use.
2. Under Cabinet Mounting
If space is limited in your RV, consider an under-cabinet mounting style for your TV. This option can free up valuable counter space and keeps the TV out of the way when not in use.
One potential downside of under cabinet mounting is that the space in the RV is often limited. This means you will only have a small under-cabinet space to manage when it comes to mounting your RV TV. For this reason, it's important to choose a small television that fits the space. We recommend selecting a TV below 27 inches.
When choosing an under-cabinet mount, be sure to select a product that is sturdy and reliable. One option we like is the VideoSecu Under Cabinet Mount, which can hold TVs up to 27 inches and has a weight capacity of up to 44 pounds. This mount has an adjustable arm that can tilt and swivel to ensure the perfect viewing angle from any seat in your RV.
Remember to measure the available space before selecting an under cabinet mount and TV to ensure a perfect fit.
3. Inside Cabinet Articulating Arm
The Inside Cabinet Articulating Arm is a unique and sophisticated mounting method for your RV TV. One of the advantages of this method is that you don't need to refurbish the plywood to install the TV mount. This means you can easily mount your TV without having to make any adjustments to the cabinet.
Another advantage of this method is that it keeps cables and wires hidden from view, leaving only the television screen visible. The result is a sleek and clutter-free appearance that will enhance the aesthetic appeal of your RV interior.
However, after installing the TV, it is essential to lock it to keep it safe. If the plywood is too wide, the TV might swing from one angle to another, causing damage to the TV. It is therefore recommended to choose a mount that is suitable for the size and weight of your TV.
If you opt for the Inside Cabinet Articulating Arm method, you can enjoy your favorite shows and movies without the clutter and bulk of traditional TV mounts. This method is a great choice for those who want a clean and sophisticated look for their RV interior.
4. Full Motion RV TV Mount for Wall or Ceiling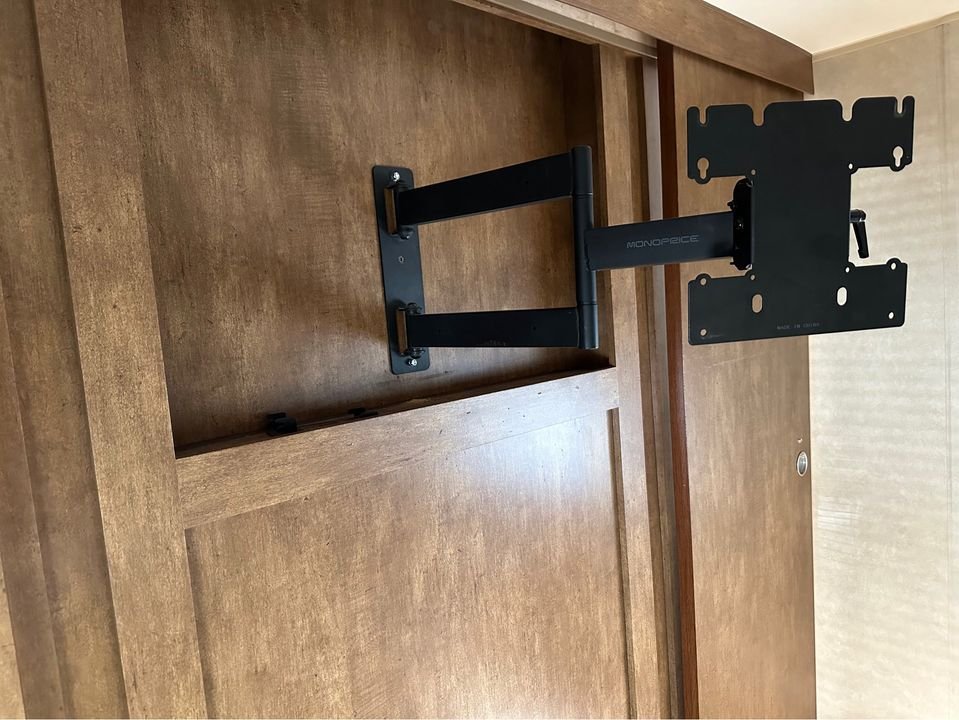 One exciting RV TV mounting idea is the Full Motion RV TV Mount. It is a versatile and flexible mounting option that allows for easy movement and viewing of the television. One of the most significant advantages of this type of mount is its sleek and aesthetic design, which can enhance the RV's overall appearance.
The Full Motion RV TV Mount comes with easy-to-follow installation instructions, and it's relatively easy to install. However, it's important to note that the wooden board in the RV should be thicker than 1/2 inch to ensure the mount is secure.
One crucial feature of the Full Motion RV TV Mount is the post-installation adjustment, which allows for +/-5 degrees adjustment to ensure perfect TV leveling. With this feature, you can easily adjust the angle and position of the TV for optimal viewing.
Another benefit of the Full Motion RV TV Mount is that it saves space, which is essential in an RV. The TV can be pushed back when not in use, creating extra space for other activities. Overall, the Full Motion RV TV Mount is an excellent option for those who want a modern, sleek, and flexible RV TV mounting solution.
5. Wall Surface Mount
Mounting your RV TV on the wall surface is the easiest way to do it. All you need to do is drill a few holes on the wall surface, attach the TV mount, and then install the television on the mount. This mounting method is very straightforward and can be done by anyone.
However, one major downside of this method is that it leaves several holes in the wall, which may not look appealing. Additionally, you may not have the opportunity to change the television position as this will require that you drill more holes on the wall.
You can adopt any of these ideas to mount your RV TV easily. One of the most important pieces of equipment you need to hang your RV TV is the RV mount, which is slightly different from the normal TV mount used in the house. You can shop for some of the best RV TV mounts online.
A full-motion RV TV mount can allow for flexible viewing and movement, while an under-cabinet mount can help save space in your RV. When choosing a mounting method, consider factors such as aesthetics, convenience, and safety.