I'm sure we've all experienced those moments when we're eagerly looking forward to playing video games all night, unwinding in front of the TV after a long day at work, or hosting a movie night with friends. But instead, what greets us is a dreaded black screen on our Samsung TV.
Thankfully, fixing the black screen issue, often referred to as the "black screen of death," on your Samsung TV is often a piece of cake. Just like resolving the Samsung split-screen problem, it can be easily tackled by resetting the TV. Sometimes, incorrect TV settings can cause the screen to go black, but don't worry, a simple reset can solve the problem and have your TV up and running smoothly again.
5 Possible Causes of the Black Screen on Your Samsung TV
I will guide you through the process of resetting your Samsung TV with a black screen. However, before we proceed, it's essential to identify the underlying cause of the issue. Once you've determined the cause, you can then take the necessary steps to resolve it and proceed with the reset.
Here are five potential causes of a black screen on your Samsung TV:
Cable connection problems.
External device issues.
Power connectivity issues.
Outdated TV software.
Software bugs and system malfunctioning.
2 Ways to Reset Your Samsung TV
There are two methods you can use to reset your TV: the soft reset method and the hard reset method, also known as a factory reset.
Method 1 – Soft Reset:
Before resorting to a factory reset and completely restoring your TV to its default settings, we recommend attempting a soft reset as a first step.
Here's how to perform a soft reset on your Samsung TV:
Turn off the TV. Leave it powered off for approximately 1 minute, and unplug the power cord from the electrical outlet.
Plug the power cord back into the outlet and switch on the TV.
That should resolve the issue!
If you can access your screen, there's another method you can try:
Go to the Settings menu on your TV.
Navigate to the Support section.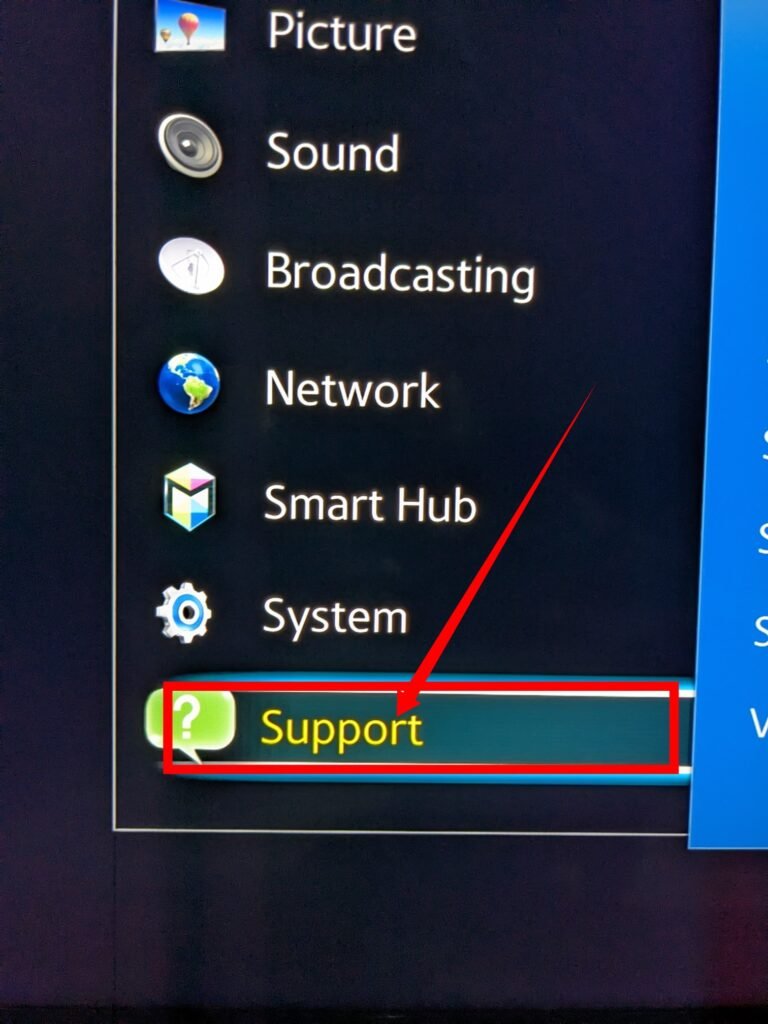 3. Select Self Diagnosis
4. Choose and click reset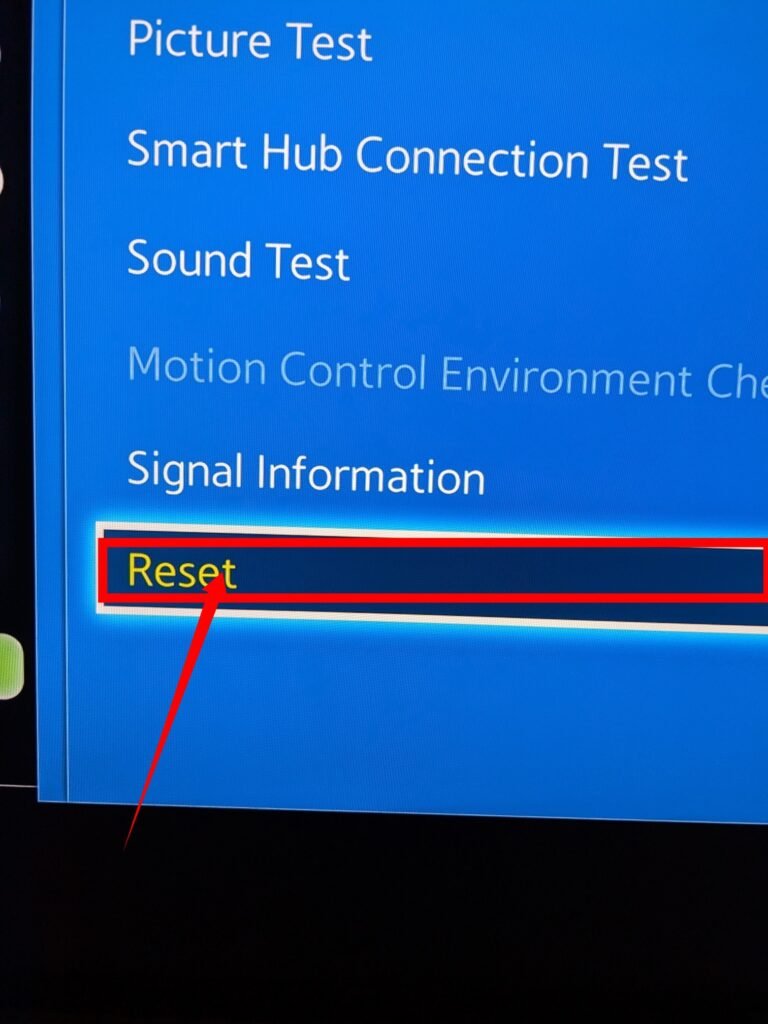 When your TV screen turns back on, the black screen should be gone.
Method 2 – Factory Reset Tv
Alright, if you've exhausted all other options without success, it's time to consider a factory reset for your Samsung TV. You should have access to your screen to perform this action.
Important: Please be aware that a factory reset will restore your TV to its default settings, which means all your data will be erased. Only proceed with a factory reset if you have exhausted all other troubleshooting methods.
A factory reset has its pros and cons. On one hand, it eliminates software bugs, system malfunctions, and potentially harmful elements from your TV. On the other hand, it will wipe out all your saved accounts and personalized settings, which can be time-consuming to set up again.
Follow these steps to successfully perform a factory reset on your Samsung TV:
Go to the Settings menu on your TV.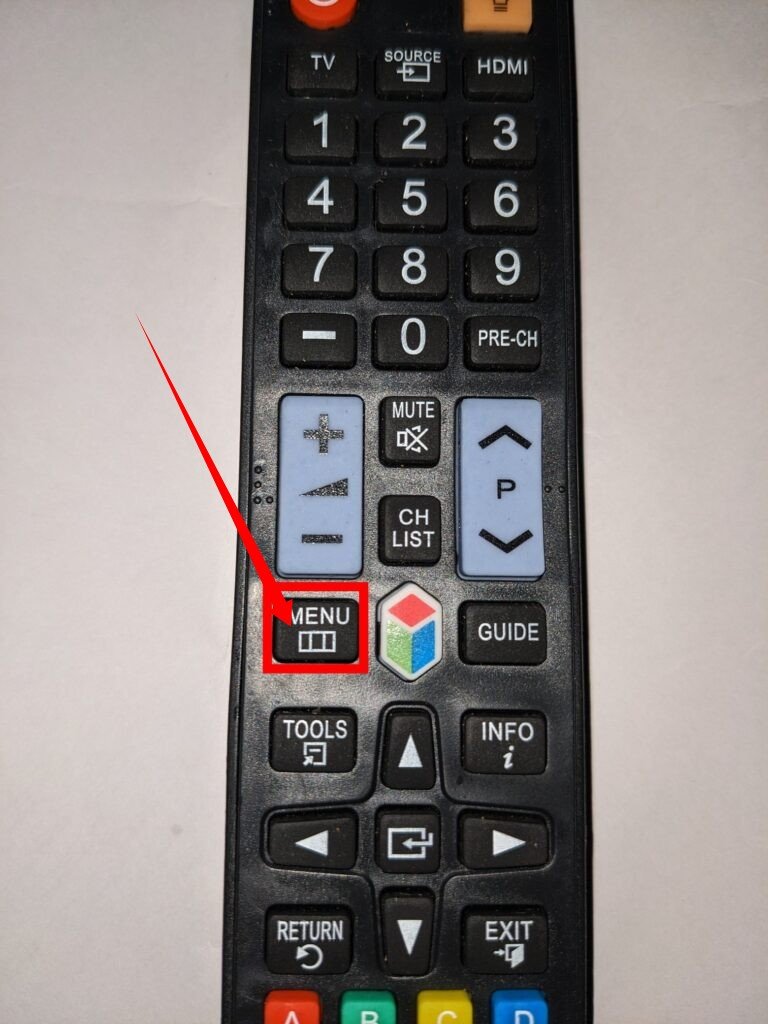 Select "General" from the options available.
Locate and select "Reset" from the list of options.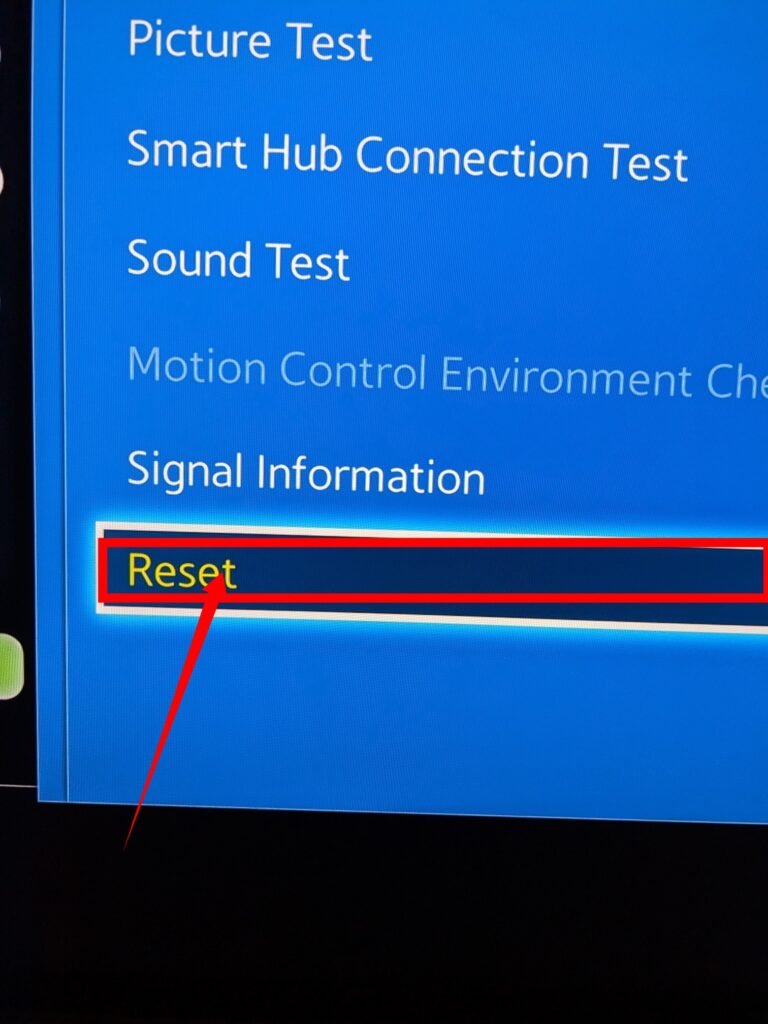 You may be prompted to enter a PIN. If you haven't set a custom PIN before, the default PIN is usually 0000.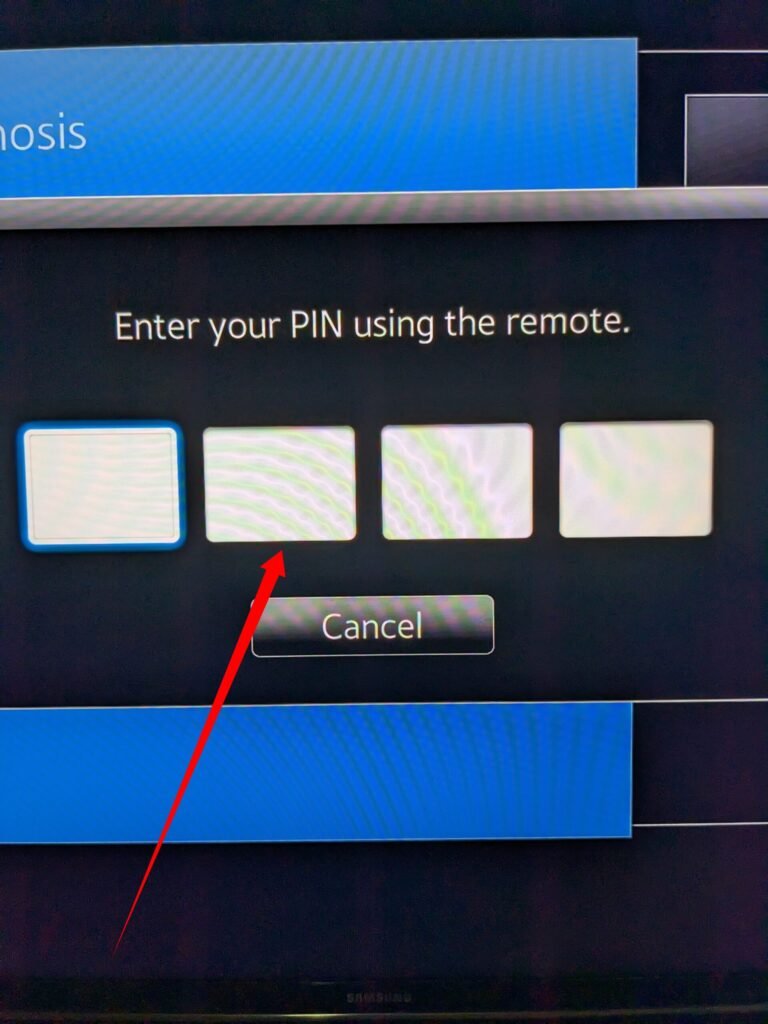 Once you have entered the correct PIN, proceed to select "Reset" to initiate the factory reset process.
Confirm the procedure by clicking "OK" when prompted.
How Do I Reset My Samsung TV When The Screen Is Black?
To reset your Samsung TV when the screen is black, follow these steps:
Press and hold the Exit button on your Samsung remote for approximately 15 seconds.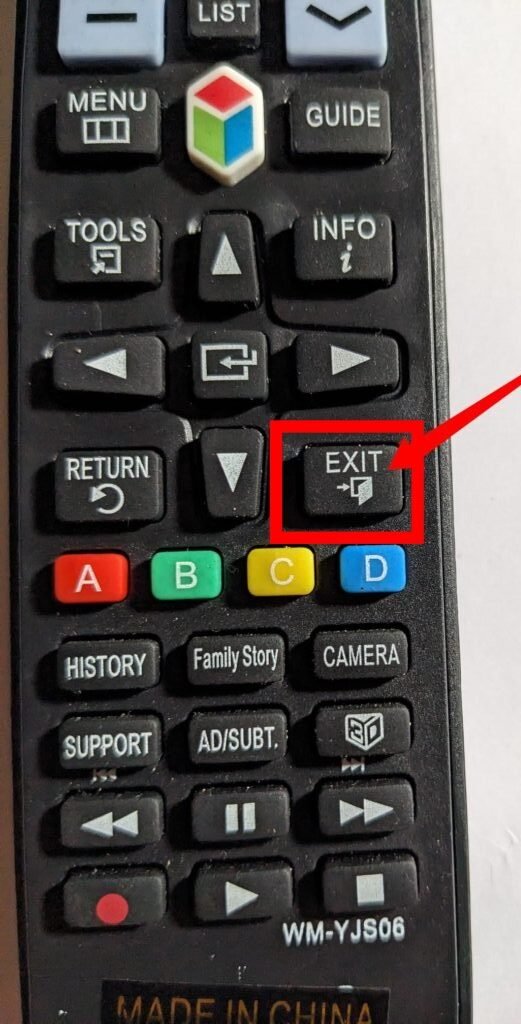 Keep an eye on the standby light, which should continue blinking during this process. A warning message will appear on the screen, asking you to confirm if you want to proceed with the reset.
Select "OK" to initiate the reset of your Samsung TV.
After confirming, your TV will power off. Wait for a short while, and then press the Power button to switch your TV back on.
Option 2
If you find yourself stuck with a frozen or unresponsive TV, performing a long press of the power button for 30 seconds or more can be your secret weapon. This magical reboot manoeuvre can help breathe new life into your device, clearing out any glitches or hiccups that may be causing the issue.
FAQs
What is the Samsung TV Black Screen of Death?
When your TV screen appears black and fails to display images while the audio functions normally, it is typically attributed to several factors. These include connectivity problems, issues with external devices, software bugs, and system malfunction caused by outdated TV firmware.
Does a Samsung TV have a reset button?
Indeed, the power button is located at the rear of the TV. Alternatively, you can press and hold the "Exit" button on the remote for approximately 15 seconds to achieve the desired effect.
How can I reboot my Samsung TV without using the remote control?
To initiate the desired action, locate the control button on either the front or back of your television and press and hold it for an extended duration.
How Do I Reset My Samsung TV When The Screen Is Black?
To address the issue, begin by pressing the "Menu" button on your remote. If the menu section is accessible, navigate to the settings and proceed with resetting the TV. Follow the aforementioned steps to perform a factory reset.
In the event that the problem persists or the menu section remains invisible, it is possible that your TV's hardware has sustained damage. It is advisable to seek assistance from a professional Samsung electrician who can inspect the TV and provide further guidance.
What Do I Do When My Samsung TV Keeps Cutting Out?
The likely scenario is that your TV is currently in "Sleep" mode or "Energy Saving" mode, which can result in a completely black screen. In order to conserve power, the TV's screen remains inactive. Additionally, an outdated software version could also lead to a black screen problem.
To address this, begin by disabling the "Sleep" mode and "Energy Saving" settings. If the issue persists, refer to the previously mentioned methods to reset your TV and attempt to resolve the problem.